Animal Chiropractic for Dogs
Easier, more balanced movement.
Enhanced immune response.
Improved metabolic processes.
Decreases in anxious or reactive behavior (a result of a decrease in physical pain/discomfort).
Improved athletic performance and recovery for sport dogs.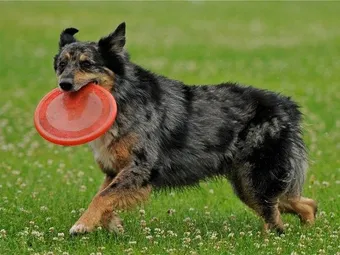 Angelo has been a practicing human chiropractor for 20 years, a certified animal chiropractor for 5 years and a professional dog trainer for 12 years. This means that in addition to the health benefits your dog will gain, Angelo will take thoughtful care to be observant and sensitive to your dog's body language and comfort during the session. Better healing with less stress makes for happy and healthy dogs!
Angelo is also an active participant in dog sports including canicross, agility and canine disc. As a former member of Team Hero Disc USA from 2012 - 2017, Angelo has competed among the top freestyle canine disc players in North America. This experience gives him a keen insight into the rigors of training and competing that sport dogs and their handlers endure. Helping sport dogs be their best with Animal Chiropractic is a true passion for Angelo.

If you are interested in having Angelo evaluate your dog, please find the link below containing a referral/ general supervision form that your veterinarian must sign before Animal Chiropractic care can be provided. We are interested in partnering with your vet so that your dog's wellness is maximally supported. The notes from your dog's Animal Chiropractic care will be sent to your veterinarian and will become part of his/her medical record.

Paz Vet | Animal Care Clinic | Supernova Dogworks (dog training) | Team Hero Disc USA
New Animal Veterinary Referral Form
New Animal Intake Forms